Design Mark's Innovative, Highly Customized Domed Labels
Domed Label Manufacturing Process by Design Mark
Design & Prototyping
All labels, regardless of 2D or 3D features, rely on attention-grabbing graphics to draw interest. A label's visual aesthetics matter greatly, which is why Design Mark's team works to understand the client's brand strategy and identity. Leveraging advanced digital printing solutions, we have the flexibility to develop exact prototypes of custom domed labels with surprisingly fast turnaround.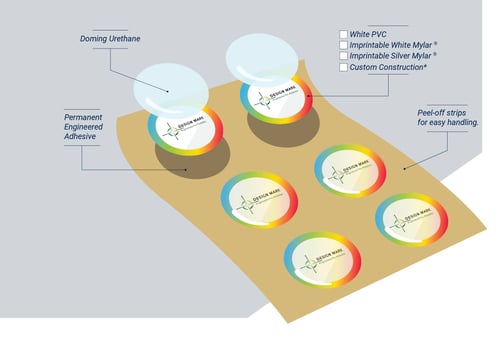 Printing & Cutting
With a wide range of substrates and adhesive label sheets to choose from, domed labels can be produced in both short and large volume runs, accommodating the needs for businesses and industrial manufacturers of any size. Using the latest digital ink-jet technology, either multi-color designs or photo-quality graphics can be applied to the label material (substrate). Label materials can include various paper stock, plastic, adhesives, rubber, and other unique surfaces. Each label sheet is then precisely cut by either a laser or die cutting system to remove excess material around the label.
Label Doming & Curing
The label doming process is the flagship stage, as Design Mark offers the latest automated nozzle dispensing technology to carefully and efficiently apply liquid polyurethane resin over the label's surface area. As the nozzle moves across the label sheet, it makes contact across each label's design area and injects a specific volume of polyurethane resin onto its surface.
Depending on the urethane's material characteristics, surface tension takes hold and the liquid stops flowing just at the label's final edge, forming a perfectly symmetrical dome over the graphic. The process requires that each sheet, as well as the equipment it resides on, be perfectly level in order to achieve an even dome surface after dispensing and curing.
The first stage of domed label curing requires the labels to sit undisturbed for 24 hours before moving or handling. They are then placed in an environmentally controlled enclosure that monitors both temperature and humidity in order to prevent the formation of bubbles or lopsided dome shapes. Final curing times ultimately depend on the characteristics of the urethane.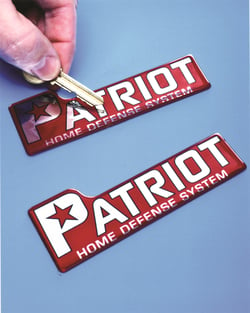 Design Mark Quality in 3D Domed Label Production
As an ISO 9001-2015 certified company, Design Mark continuously analyzes and improves our domed label production process. Our goal is to help client's exhibit their brand across various industries. We take significant steps to eliminate quality issues in each batch we create.
Real-Time Surface Leveling – all of our state-of-the-art equipment and material is precisely measured and monitored throughout the entire domed label production process. The first hours of curing are crucial as properly leveled equipment determines the fate of the dome's uniformity and symmetry during production.
Superior Polyurethane Formulations – We only use high quality polyurethane resins that provide seamless curing, shape, clarity, and surface characteristics. Unlike the lower quality and less expensive epoxy formulations, our domes do not yellow, blur, fade, or post-shrink. Post-shrinking over time results in label curling, ultimately detaching itself from the resin dome.
Automated, Precisely Measured Dispensation - Our dispensing process uses calibrated, automated machine technology that injects the measured amount of urethane onto the graphic, resulting in a perfectly round dome with uniform thickness and accurate, stable edge placement.
Environmentally Controlled Facilities – Our in-house production facility features the latest in humidity and temperature monitoring, removing moisture that ultimately causes internal bubble formations during the curing process.
Robust Adhesive Performance – Our domed 3D labels feature thicker adhesive layers that ensure easy flow and adherence to cracks and fissures of almost any surface. In addition, domed labels can be customized with permanent adhesives for placement on consumer products, machinery, equipment, and more.
Intelligently Crafted Domed Labels by Design Mark
Design Mark is leading the way in producing ultra-high quality domed labels for various markets such as manufacturing, medical, military, industrial, consumer and more. Our highly trained and experienced team provides turn-key support for custom domed label design, prototyping, and production. With over 40 years of experience in studying the interaction between humans and controls, the Design Mark team combines engineering ideas with creative, market-focused design principles that help promote our client's brand.
Domed labels feature vibrant, custom designed graphics encased under a highly durable, 3D polyurethane dome. Domed labels mark a significant jump from traditionally flat, 2D labels, offering a highly attractive beacon to the eye that's not only different, but curiously appealing. As the raised depth of the domed label draws attention, its stunning graphic background is magnified, drawing the eye and focusing directly on the brand. It pops with brightness while luring the customer to embrace its tactile, crystal clear resin surface. More importantly, domed labels offer the "go big and go bold" marketing draw that's capable of holding its ground across virtually any environment.
When you handle a 3D domed label vs. a 2D flat label, the difference is glaringly obvious. The flat, 2D label relies on graphics only and gives the impression that the marketing is temporary. A 3D domed label is steadfast in its message, a solid tangible shrine that looks good on any surface or equipment for years to come. Backed by Design Mark's in-house, next generation doming and curing process, domed labels can be designed, printed, cut, and domed according to the client's exact requirements.
3D Domed Labels Offer Tremendous Branding Utility
3D domed labels are not just bold, high-end, and aesthetically pleasing, they're also capable of yielding a higher utility factor per unit when it comes to marketing execution. Thanks to a number of characteristics that excel 2D stickers, domed labels can provide the following:
Multi-marketing functions allow domed labels to convey brand identities and messaging on walls, industrial machinery, consumer products, tools, devices, and more. They convey high-end visual impact while complimenting a product or equipment's design aesthetics over the long term.
Engineered for durability outdoors or indoors, with a doming urethane that is both weatherproof and non-yellowing, protecting the graphic from the elements, fading, or material breakdown.
Enhanced surface mounting for domed labels requires a thicker adhesive layer than traditional 2D stickers, allowing them to adhere to virtually any surface.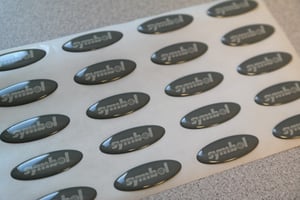 Abrasion resistance in polyurethane allows domed labels to "self-heal" from scratches, dents and dings; preserving vibrancy and brand visuals.
Build greater brand distinction and communicate the impression of your manufacturing quality with 3D domed labels. The polyurethane domes magnify graphics with crystal-like clarity.